Dr.
Reddy's Laboratory Stock
Today on 11th June 2021, Dr Reddy share price climbed to a record high of 3.04%. Opened at a price of 5300, with a small gap-up to its closing price of 5292.05, and made a low of 5288.55 in the first 15 mins. After that, it started its nonstop rally and made a high of  5489.9 then settled to close at 5453 at the end of today's trading.
Today's Such gain warned the put writers and assigned a remarkable signal to head up of the Dr reddy share price. Looks like as it will not take a rest unless giving a big rally. I mean a big bull rally began now.
Dr Reddy Share
Price
is going trade in the blue sky zone
The following factors indicate that This Stock is moving in heavy bullish territory.
The Stock started to move upward after completing a long consolidation phase.
The Stock itself bears fundamentally very strong.
All the technical parameters of this stock indicate very bullishly.
This stock belongs to the Current trending Sector.
Stock is being revealed with the positive news flow daily.
An increasing stake by many mutual funds
Long consolidation phase Break-Out
While revealing to the historical chart of Dr. Reddy's Laourotary stock chart at the end of 2015, made a high of 4400 around. Where it faced resistance and could not sustain.
Thereafter 5 years later in August 2020, it broke out that resistance successfully by making a high of 4750 around. In the very next month of September 2020, it again declined to touch its previous resistance. But this time it bounced back and made a new high of around 5500 and it couldn't be sustained.
It tested its previous resistance again and again but didn't get broke it down. Now that resistance stood as a big base for this stock where it made consolidation for few days. It got huge support there to pull it up to through it in the bullish territory.
Today on the 11th June 2021 this stock, Dr Reddy share price traded with high volume which helped to break it out to its lifetime high and entered the blue sky zone.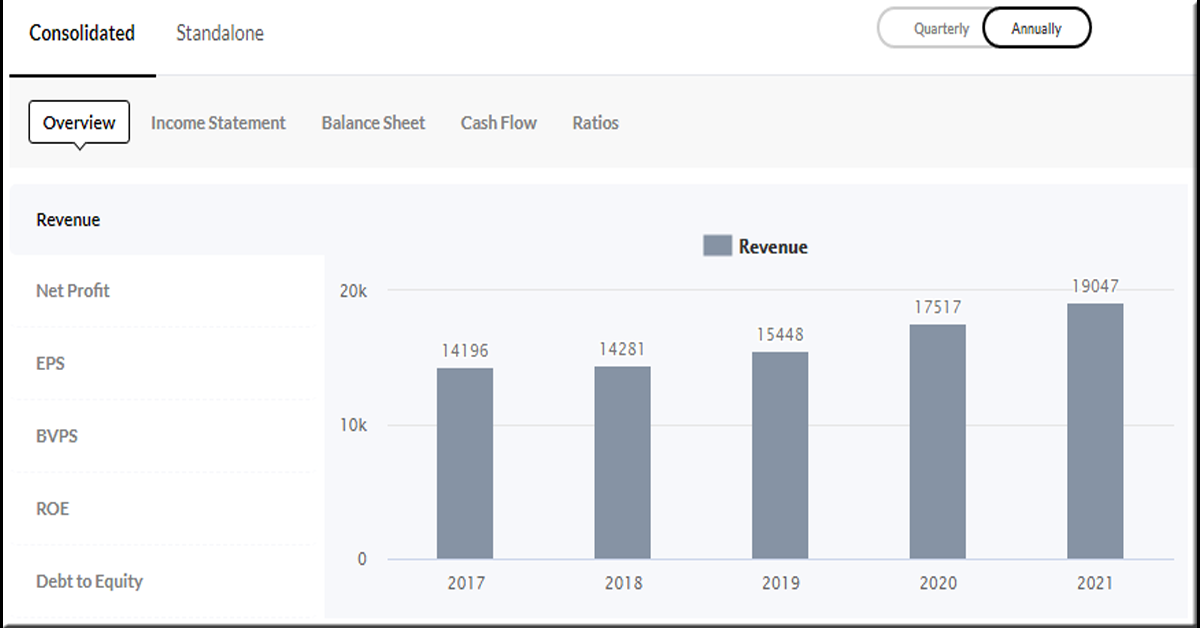 Fundamental of Dr. Reddy's
The Piotroski F-Score of Dr. Reddy's is "7". That indicates how financially strong the stock is. (Piotroski F-Score determines the financial strength of the company and ranges between 0 to 9. The higher the score, the better the financials of the company).
| Market Cap: | Rs. 90707 Cr. |
| --- | --- |
| Dividend Yield: | 0.46 |
| Book Value Per Share: | 1,060.55 |
| Face Value: | 5 |
| P/B: | 5.14 |
| Sector PE | 38.74 |
| Price to Earning Ratio: | 47.48 |
| Earnings Per Share: | 117.32 |
Technical parameters
In the current Price Chart, All the technical indicators Monthly, Weakly, Daily even Hourly show a highly bullish trend in the Dr Reddy share Price. This stock is trading above 200DMA, 100DMA, and 50DMA as well as EMAs. The monthly, weakly, and Daily value of RSI is above number 60 (Bullish). That means Both long term trend, as well as short term bullish trend, denotes that this stock price is going to boom very soon and Investor money will multi bagged with this stock definitely
Current trending Sector
In this current pandemic season, Pharma is only one of the best, finest and reliable sectors to invest in. This stock Dr. Reddy's belongs to this Current trending Pharma Sector. Except for Dr Reddy share Price, all other shares of this pharma sector are increased dramatically with keeping to their current suitable situation. While Dr. Reddy's was consolidating. But as our imagination, it started to boom now with giving a successful breakout.
Stock is being revealed with the positive news flow daily these days
News flow is one of the most crucial factors for any stock to make its price highly volatile. In keeping to the current pandemic scenario, this stock has been playing a vital role in the demanding vaccination. That's why the name of this stock blinks in the news headlines daily these days. That might help in boosting the value of Dr Reddy Share Price.
An increasing stake by many mutual funds
Among all participants, the Roll of FIIs and DIIs are vital in the stock market. The money invested by them is called smart money. Many of the mutuals funds companies of India have raised their investment in this stock. That indicates the positive sign about this stock to boom very soon.
Conclusion
By revealing all those points, it can be said that all the parameters are positive in the case of Dr. Reddy's Stock. That means Dr Reddy Share Price is going to boom very soon. The money invested in this stock may multi-bagger very soon. So if anyone wishes to invest in the stock market, then he may give a place for it in his portfolio. A strict stop loss should be put at 5120. But if you are new to the stock market, my sincere request is to take the advice of your financial adviser before investing in the stock market.